TPNS Overview
Last updated: 2019-08-08 17:22:25
1. Services Provided by TPNS
Push notification is a critical way to reach users in the development and operation of mobile applications. Push notification can build up interactions with users and increase product usage.
TPNS helps developers integrate mobile push capabilities, manage push messages, and evaluate push effects.
1.1. TPNS PUSH SDK
TPNS provides full-link mobile push capabilities. TPNS SDK access takes less than 10 minutes and user-end push notifications can be enabled. For tutorials, click here.
1.2. Web-based TPNS Console
TPNS console is web-based and very convenient. You can manage push messages, view push data, and test push notifications. You can send messages and monitor data in real time with some simple configurations.
1.3. Advanced Custom APIs
TPNS offers comprehensive device-specific and backend APIs to help you customize push-related business logic, so you can achieve advanced functionalities such as personalized targeting.
2. Overview of TPNS Push Process
This section describes the push process of TPNS consisting of two linkages: "message delivering" and "data reporting".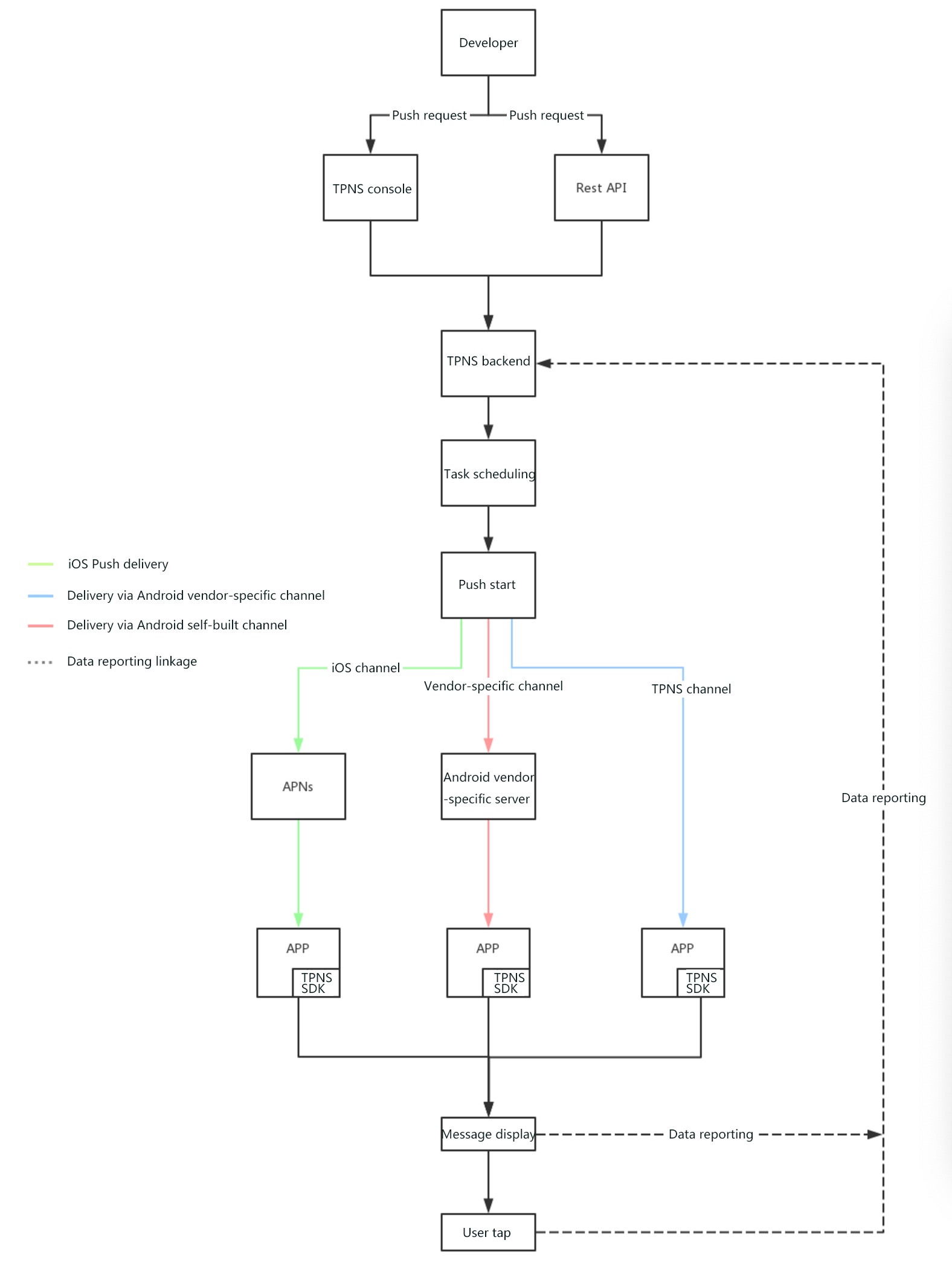 3. Basic Concepts
3.1. Overview
This section defines some basic concepts in TPNS. This section helps you better understand TPNS and other documents.
3.2. Message Type
Notification bar message
This refers to the message displayed by the operating system in the notification bar, and the user can tap the message to open the app.
In-app message
This refers to the message directly passed through to the Android device, which will not be actively displayed in the notification bar and will be handled by the app after received.
3.3. Push Channel
Android vendor-specific channel
This refers to the push channel at the operating system level provided by Android mobile phone manufacturers, which enables message receipt and display without launching the app. Major Chinese mobile phone manufacturers has already launched this service.
APNs
APNs is short for Apple Push Notification service, the push channel in iOS. All iOS push messages are sent to the device via APNs.
Android TPNS channel
This is TPNS' self-built push channel, which maintains the connection between the device and the TPNS server through a unique sharing channel mechanism to ensure delivery of the push message.
FCM channel
FCM is short for Firebase Cloud Messaging, a Google push service and channel with push capabilities at the operating system level outside mainland China.
TPNS multi-channel integration
TPNS can intelligently select the push channel based on different use cases. It selects the best channel according to device types to ensure effective message delivery.
3.4. TPNS Service Format
TPNS console
This is TPNS' visual push management interface, where you can send push messages, query push history, analyze data, develop and test pushes. It can be used after you log in on TPNS' official website.
REST API
This refers to the backend API provided by TPNS, which implements functions such as message push, device mapping management, and data querying. It makes it easier for you to customize pushes and is compatible with your existing business logic. For details, see TPNS Backend REST API.
Mobile SDK
TPNS provides a push SDK for both iOS and Android. The SDK is mainly used to display push messages and collect statistics. In addition, the SDK comes with a set of APIs that can help you achieve the business logic of targeted push. For details, see Android SDK API or iOS SDK API.
3.5. Push Process
Push_Token
Push_Token is an identifier of a device generated by TPNS (hereinafter referred to as Token) used to push messages to the device, which is the smallest unit of push.
Device push registration
The push registration of a device indicates that a persistent connection has been successfully established between the device and the TPNS server. The device will communicate with the server.... (professional description is required here)
Persistent connection
A persistent connection is a continuous connection between the TPNS Android SDK and TPNS backend. Messages can be delivered and displayed as long as the connection is valid. If a persistent connection cannot be established, the push message will be retained in TPNS backend and delivered after the connection succeeds.
Account
This is a concept used in targeted push, which may be called alias in other push systems. Accounts can be configured and managed in the device SDK and TPNS backend. After an account is bound, it can be used as the push target to push messages.
Tag
This is another concept used in targeted push. You can call the TPNS SDK and backend API to bind one or more tags to the device. After that, you can push messages based on the tags, which makes lean operations easier.