Apache Kudu is a distributed and horizontally scalable columnar storage system. It improves the storage layer of Hadoop and can quickly analyze rapidly changing data.
Basic Kudu Features
Fast processing of OLAP workloads.
Integration with MapReduce, Spark, and other Hadoop ecosystem components.
Tight integration with Apache Impala, making it a good and mutable alternative to using HDFS with Apache Parquet.
Flexible consistency model.
Strong performance for running sequential and random workloads simultaneously.
High data availability and storage reliability backed by the Raft protocol.
Structured data model.
Kudu Use Cases
Complex scenarios involving both random access and batch data scanning.
Scenarios with high computational load.
Application of real-time predication models, which supports periodic model update based on all historical data.
Data update, which avoids repeated data migration.
Cross-region real-time data backup and query.
Basic Kudu Architecture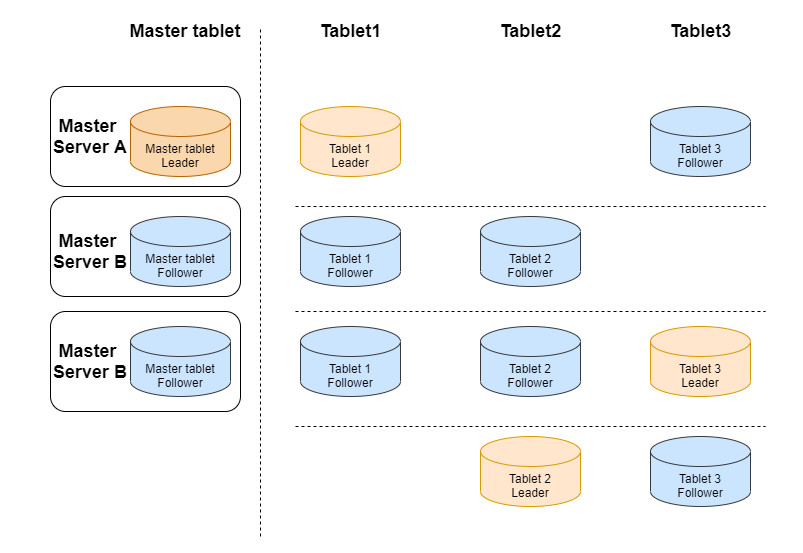 Kudu contains the following two types of components:
Master, which is mainly responsible for managing metadata information, listening on servers, and reassigning tablets in case of server failures.
Tablet server, which is mainly responsible for tablet storage and data CRUD.
Kudu Usage
EMR 2.4.0 supports the Kudu component. If you check the Kudu component when creating a Hadoop cluster, a Kudu cluster will be created. By default, it contains 3 Kudu masters, and high availability is enabled for it.
Note:

All IPs used below are private IPs.
Integrate Impala with Kudu

[

172.30

.0

.98

:

27001

] > 

CREATE

 

TABLE

 t2(id 

BIGINT

,

name

 STRING,

PRIMARY KEY

(id))

PARTITION BY HASH

 PARTITIONS 

2

 STORED 

AS

 KUDU TBLPROPERTIES (


'kudu.master_addresses'

 = 

'172.30.0.240,172.30.1.167,172.30.0.96,172.30.0.94,172.30.0.214'

,


'kudu.num_tablet_replicas'

 = 

'1'

);
Query: 

create

 

TABLE

 t2 (id 

BIGINT

,

name

 STRING,

PRIMARY KEY

(id)) 

PARTITION BY HASH

 PARTITIONS 

2

 STORED 

AS

 KUDU TBLPROPERTIES (


'kudu.master_addresses'

 = 

'172.30.0.240,172.30.1.167,172.30.0.96,172.30.0.94,172.30.0.214'

,


'kudu.num_tablet_replicas'

 = 

'1'

)
Fetched 

0

 

row

(s) 

in

 

0.12

s
[hadoop@

172

 root]$ /usr/

local

/service/kudu/bin/kudu 

table

 list  

172.30

.0

.240

,

172.30

.1

.167

,

172.30

.0

.96

,

172.30

.0

.94

,

172.30

.0

.214


impala::

default

.t2


[

172.30

.0

.98

:

27001

] 

>

 

insert

 

into

 t2 

values

(

1

, 

'test'

);
Query: 

insert

 

into

 t2 

values

(

1

, 

'test'

)
Query submitted 

at

: 

2020

-08

-10

 

20

:

07

:

21

 (Coordinator: http:

/

/

172.30

.0

.98

:

27004

)
Query progress can be monitored 

at

: http:

/

/

172.30

.0

.98

:

27004

/

query_plan?query_id

=

b44fe203ce01254d:b055e98200000000
Modified 

1

 

row

(s), 

0

 

row

 error(s) 

in

 

5.63

s

Query data based on Impala

[172.30.0.98:27001] > select * from t2;
Query: select * from t2
Query submitted at: 2020-08-10 20:09:47 (Coordinator: http://172.30.0.98:27004)


Query progress can be monitored at: http://172.30.0.98:27004/query_plan?query_id=ec4c9706368f135d:f20ccb6e00000000
+----+------+




| id | name |
+----+------+




| 1  | test |
+----+------+


Fetched 1 row(s) in 0.20s

Other commands

Perform health check for the cluster

[hadoop@

172

 root]$ 

/usr/

local

/service/

kudu

/bin/

kudu cluster ksck 

172.30

.

0.240

,

172.30

.

1.167

,

172.30

.

0.96

,

172.30

.

0.94

,

172.30

.

0.214




[hadoop@

172

 root]$ /usr/local**kudu**/bin/kudu table create '

172.30

.0

.240

,

172.30

.1

.167

,

172.30

.0

.96

,

172.30

.0

.94

,

172.30

.0

.214

' '

{

"table_name"

:

"test"

,

"schema"

:{

"columns"

:[{

"column_name"

:

"id"

,

"column_type"

:

"INT32"

,

"default_value"

:

"1"

},{

"column_name"

:

"key"

,

"column_type"

:

"INT64"

,

"is_nullable"

:

false

,

"comment"

:

"range key"

},{

"column_name"

:

"name"

,

"column_type"

:

"STRING"

,

"is_nullable"

:

false

,

"comment"

:

"user name"

}],

"key_column_names"

:[

"id"

,

"key"

]},

"partition"

:{

"hash_partitions"

:[{

"columns"

:[

"id"

],

"num_buckets"

:

2

,

"seed"

:

100

}],

"range_partition"

:{

"columns"

:[

"key"

],

"range_bounds"

:[{

"upper_bound"

:{

"bound_type"

:

"inclusive"

,

"bound_values"

:[

"2"

]}},{

"lower_bound"

:{

"bound_type"

:

"exclusive"

,

"bound_values"

:[

"2"

]},

"upper_bound"

:{

"bound_type"

:

"inclusive"

,

"bound_values"

:[

"3"

]}}]}},

"extra_configs"

:{

"configs"

:{

"kudu.table.history_max_age_sec"

:

"3600"

}},

"num_replicas"

:

1

}'

Query the created test table

[hadoop@172 root]$ /usr/local/service/kudu/bin/kudu table list  172.30.0.240,172.30.1.167,172.30.0.96,172.30.0.94,172.30.0.214


test


[hadoop

@172

 root]$ 

/

usr

/

local

/

service

/

kudu

/

bin

/

kudu 

table

 

describe

  

172.30

.0

.240

,

172.30

.1

.167

,

172.30

.0

.96

,

172.30

.0

.94

,

172.30

.0

.214

 test


TABLE

 test (
  id INT32 

NOT

 

NULL

,
  key INT64 

NOT

 

NULL

,
  name STRING 

NOT

 

NULL

,
  

PRIMARY

 KEY (id, key)
)
HASH (id) PARTITIONS 

2

 SEED 

100

,


RANGE

 (key) (
  

PARTITION

 

VALUES

 

<

 

3

,
  

PARTITION

 

3

 

<=

 

VALUES

 

<

 

4


)
REPLICAS 

1