Accessing Cluster from API
Last updated: 2020-02-17 14:06:25
PDF
Tencent Cloud ES is built on your VPC, and you can access the ES cluster by using a CVM in the same VPC as the client. The private network address of the ES cluster in your VPC can be viewed on the cluster details page.
View Private Network Addresses
You can view the private network address in Basic Configuration of the cluster details page by clicking the cluster ID in the list page.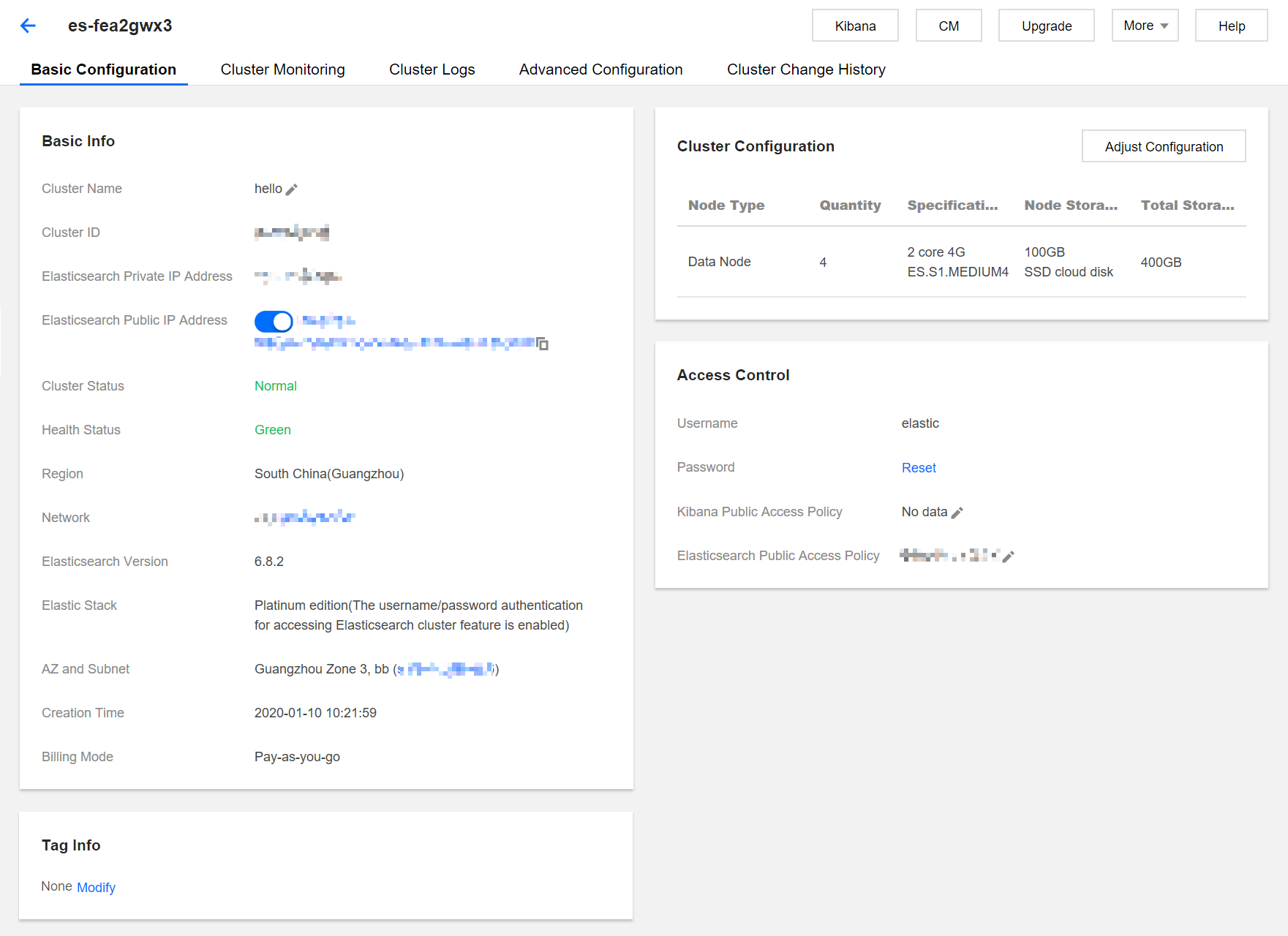 Create Documents
Create a single document
Enter the following command:
curl -XPUT 

http:

//10.0.0.2:9200/china/city/beijing -d'


{


"name"

:

"Beijing"

,


"province"

:

"Beijing"

,


"lat"

:

39.9031324643

,


"lon"

:

116.4010433787

,


"x"

:

6763

,


"level.range"

:

4

,


"level.level"

:

1

,


"level.name"

:

"first-tier city"

,


"y"

:

6381

,


"cityNo"

:

1


}


'
The response is:
{
    

"_index"

:

"china"

,
    

"_type"

:

"city"

,
    

"_id"

:

"beijing"

,
    

"_version"

:

1

,
    

"result"

:

"created"

,
    

"_shards"

:{
        

"total"

:

2

,
        

"successful"

:

1

,
        

"failed"

:

0


    },
    

"created"

:

true


}
Create multiple documents:
Enter the following command:
curl -XPOST http://

10.0

.

0.2

:

9200

/_bulk -d'
{ 

"index"

 : { "_

index

": "

china

", "

_type

" : "

city

", "

_id

" : "

beijing

" } }
{"

name

":"

Beijing

","

province

":"

Beijing

","

lat

":39.9031324643,"

lon

":116.4010433787,"

x

":6763,"

level.

range

":4,"

level.level

":1,"

level.name

":"

first-tier city

","

y

":6381,"

cityNo

":1}
{ "

index

" : { "

_index

": "

china

", "

_type

" : "

city

", "

_id

" : "

shanghai

" } }
{"

name

":"

Shanghai

","

province

":"

Shanghai

","

lat

":31.2319526784,"

lon

":121.469443249,"

x

":7779,"

level.

range

":4,"

level.level

":1,"

level.name

":"

first-tier city

","

y

":4409,"

cityNo

":2}
{ "

index

" : { "

_index

": "

china

", "

_type

" : "

city

", "

_id

" : "

guangzhou

" } }
{"

name

":"

Guangzhou

","

province

":"

No 

79

, Jixiang Road, Yuexiu District, Guangdong Province

","

lat

":23.1317146641,"

lon

":113.2595185241,"

x

":6173,"

level.

range

":4,"

level.level

":1,"

level.name

":"

first-tier city

","

y

":2560,"

cityNo

":3}
{ "

index

" : { "

_index

": "

china

", "

_type

" : "

city

", "

_id

" : "

shenzhen

" } }
{"

name

":"

Shenzhen

","

province

":"

No 

37

, Xinyuan Road, Futian District, Guangdong Province

","

lat

":22.5455465546,"

lon

":114.0527779134,"

x

":6336,"

level.

range

":4,"

level.level

":1,"

level.name

":"

first-tier city 

","

y

":2429,"

cityNo

":4}
{ "

index

" : { "

_index

": "

china

", "

_type

" : "

city

", "

_id

" : "

chengdu

" } }
{"

name

":"

Chengdu

","

province

":"

No 

88

-

1

, 

4

th Section 

of

 Hongxing Road, Jinjiang District, Sichuan Province

","

lat

":30.6522796787,"

lon

":104.0725574128,"

x

":4387,"

level.level

":2,"

level.

range

":19,"

level.name

":"

new

 first-tier city

","

y

":4304,"

cityNo

":5}
{ "

index

" : { "

_index

": "

china

", "

_type

" : "

city

", "

_id

" : "

hangzhou

" } }
{"

name

":"

Hangzhou

","

province

":"

No 

316

, Huancheng North Road, Gongshu District, Zhejiang Province

","

lat

":30.2753694112,"

lon

":120.1509063337,"

x

":7530,"

level.level

":2,"

level.

range

":19,"

level.name

":"

new

 first-tier city

","

y

":4182,"

cityNo

":6}
'
The response is:
"took"

:

9

,

"errors"

:

false

,

"items"

:[{

"index"

:{

"_index"

:

"china"

,

"_type"

:

"city"

,

"_id"

:

"beijing"

,

"_version"

:

4

,

"result"

:

"updated"

,

"_shards"

:{

"total"

:

2

,

"successful"

:

2

,

"failed"

:

0

},

"created"

:

false

,

"status"

:

200

}},{

"index"

:{

"_index"

:

"china"

,

"_type"

:

"city"

,

"_id"

:

"shanghai"

,

"_version"

:

2

,

"result"

:

"updated"

,

"_shards"

:{

"total"

:

2

,

"successful"

:

2

,

"failed"

:

0

},

"created"

:

false

,

"status"

:

200

}},{

"index"

:{

"_index"

:

"china"

,

"_type"

:

"city"

,

"_id"

:

"guangzhou"

,

"_version"

:

1

,

"result"

:

"created"

,

"_shards"

:{

"total"

:

2

,

"successful"

:

2

,

"failed"

:

0

},

"created"

:

true

,

"status"

:

201

}},{

"index"

:{

"_index"

:

"china"

,

"_type"

:

"city"

,

"_id"

:

"shenzhen"

,

"_version"

:

1

,

"result"

:

"created"

,

"_shards"

:{

"total"

:

2

,

"successful"

:

2

,

"failed"

:

0

},

"created"

:

true

,

"status"

:

201

}},{

"index"

:{

"_index"

:

"china"

,

"_type"

:

"city"

,

"_id"

:

"chengdu"

,

"_version"

:

2

,

"result"

:

"updated"

,

"_shards"

:{

"total"

:

2

,

"successful"

:

2

,

"failed"

:

0

},

"created"

:

false

,

"status"

:

200

}},{

"index"

:{

"_index"

:

"china"

,

"_type"

:

"city"

,

"_id"

:

"hangzhou"

,

"_version"

:

2

,

"result"

:

"updated"

,

"_shards"

:{

"total"

:

2

,

"successful"

:

2

,

"failed"

:

0

},

"created"

:

false

,

"status"

:

200

}}]}
Update Documents
Repeating the input of creating a single document above will update the document with the specified ID Beijing.
The response is:
{

"_index"

:

"china"

,

"_type"

:

"city"

,

"_id"

:

"beijing"

,

"_version"

:

2

,

"result"

:

"updated"

,

"_shards"

:{

"total"

:

2

,

"successful"

:

2

,

"failed"

:

0

},

"created"

:

false

}
Query Documents
Query a specified ID
Enter the following command:
curl -XGET 

'http

:

//10.0.0.2:9200/china/city/beijing?pretty'
The response is:
{
  

"_index"

 : 

"china"

,
  

"_type"

 : 

"city"

,
  

"_id"

 : 

"beijing"

,
  

"_version"

 : 

4

,
  

"found"

 : 

true

,
  

"_source"

 : {
    

"name"

 : 

"Beijing"

,
    

"province"

 : 

"Beijing"

,
    

"lat"

 : 

39.9031324643

,
    

"lon"

 : 

116.4010433787

,
    

"x"

 : 

6763

,
    

"level.range"

 : 

4

,
    

"level.level"

 : 

1

,
    

"level.name"

 : 

"first-tier city"

,
    

"y"

 : 

6381

,
    

"cityNo"

 : 

1


  }
}
Query an index
Enter the following command:
curl -XGET 

'http

:

//10.0.0.2:9200/china/city/_search?pretty'
The response is:
{
  

"took"

 : 

0

,
  

"timed_out"

 : 

false

,
  

"_shards"

 : {
    

"total"

 : 

5

,
    

"successful"

 : 

5

,
    

"skipped"

 : 

0

,
    

"failed"

 : 

0


  },
  

"hits"

 : {
    

"total"

 : 

6

,
    

"max_score"

 : 

1.0

,
    

"hits"

 : [
      {
        

"_index"

 : 

"china"

,
        

"_type"

 : 

"city"

,
        

"_id"

 : 

"guangzhou"

,
        

"_score"

 : 

1.0

,
        

"_source"

 : {
          

"name"

 : 

"Guangzhou"

,
          

"province"

 : 

"No 79, Jixiang Road, Yuexiu District, Guangdong Province"

,
          

"lat"

 : 

23.1317146641

,
          

"lon"

 : 

113.2595185241

,
          

"x"

 : 

6173

,
          

"level.range"

 : 

4

,
          

"level.level"

 : 

1

,
          

"level.name"

 : 

"first-tier city"

,
          

"y"

 : 

2560

,
          

"cityNo"

 : 

3


        }
      }
    },
    ......
}

Complex query
Simulate an SQL statement:
select

 * 

from

 city 

where

 

level

.

level

=

2
curl -XGET http://

10.0

.

0.2

:

9200

/china/city/_search?pretty -d'
{
    

"query"

 : {
        

"constant_score"

 : { 
            

"filter"

 : {
                

"term"

 : { 
                    

"level.level"

 : 2
                }
            }
        }
    }
}'
The response is:
{
  

"took"

 : 

2

,
  

"timed_out"

 : 

false

,
  

"_shards"

 : {
    

"total"

 : 

5

,
    

"successful"

 : 

5

,
    

"skipped"

 : 

0

,
    

"failed"

 : 

0


  },
  

"hits"

 : {
    

"total"

 : 

2

,
    

"max_score"

 : 

1.0

,
    

"hits"

 : [
      {
        

"_index"

 : 

"china"

,
        

"_type"

 : 

"city"

,
        

"_id"

 : 

"chengdu"

,
        

"_score"

 : 

1.0

,
        

"_source"

 : {
          

"name"

 : 

"Chengdu"

,
          

"province"

 : 

"No 88-1, 4th Section of Hongxing Road, Jinjiang District, Sichuan Province"

,
          

"lat"

 : 

30.6522796787

,
          

"lon"

 : 

104.0725574128

,
          

"x"

 : 

4387

,
          

"level.level"

 : 

2

,
          

"level.range"

 : 

19

,
          

"level.name"

 : 

"new first-tier city"

,
          

"y"

 : 

4304

,
          

"cityNo"

 : 

5


        }
      },
      {
        

"_index"

 : 

"china"

,
        

"_type"

 : 

"city"

,
        

"_id"

 : 

"hangzhou"

,
        

"_score"

 : 

1.0

,
        

"_source"

 : {
          

"name"

 : 

"Hangzhou"

,
          

"province"

 : 

"No 316, Huancheng North Road, Gongshu District, Zhejiang Province"

,
          

"lat"

 : 

30.2753694112

,
          

"lon"

 : 

120.1509063337

,
          

"x"

 : 

7530

,
          

"level.level"

 : 

2

,
          

"level.range"

 : 

19

,
          

"level.name"

 : 

"new first-tier city"

,
          

"y"

 : 

4182

,
          

"cityNo"

 : 

6


        }
      }
    ]
  }
}
Aggregation query
Simulate an SQL statement:
select level.level, count(1) 

from

 city

 group 

by level.level
curl -XGET http://

10.0

.

0.2

:

9200

/china/city/_search?pretty -d'
{
    

"size"

 : 0,
    

"aggs"

 : { 
        

"city_level"

 : { 
            

"terms"

 : { 
              

"field"

 : "

level.level

"
            }
        }
    }
}'
The response is:
{
  

"took"

 : 

10

,
  

"timed_out"

 : 

false

,
  

"_shards"

 : {
    

"total"

 : 

5

,
    

"successful"

 : 

5

,
    

"skipped"

 : 

0

,
    

"failed"

 : 

0


  },
  

"hits"

 : {
    

"total"

 : 

7

,
    

"max_score"

 : 

0.0

,
    

"hits"

 : [ ]
  },
  

"aggregations"

 : {
    

"city_level"

 : {
      

"doc_count_error_upper_bound"

 : 

0

,
      

"sum_other_doc_count"

 : 

0

,
      

"buckets"

 : [
        {
          

"key"

 : 

1

,
          

"doc_count"

 : 

4


        },
        {
          

"key"

 : 

2

,
          

"doc_count"

 : 

3


        }
      ]
    }
  }
}
Delete Documents
Delete a single document
Enter the following command:
curl -XDELETE 

'http

:

//10.0.0.2:9200/china/city/beijing?pretty'
The response is:
{
  

"found"

 : 

true

,
  

"_index"

 : 

"china"

,
  

"_type"

 : 

"city"

,
  

"_id"

 : 

"beijing"

,
  

"_version"

 : 

5

,
  

"result"

 : 

"deleted"

,
  

"_shards"

 : {
    

"total"

 : 

2

,
    

"successful"

 : 

2

,
    

"failed"

 : 

0


  }
}
Delete a type
curl -XDELETE 

'http

:

//10.0.0.2:9200/china/city?pretty'
Delete an index
curl -XDELETE 

'http

:

//10.0.0.2:9200/china?pretty'