The 7 Things Executives Should Know About China Cloud Deployment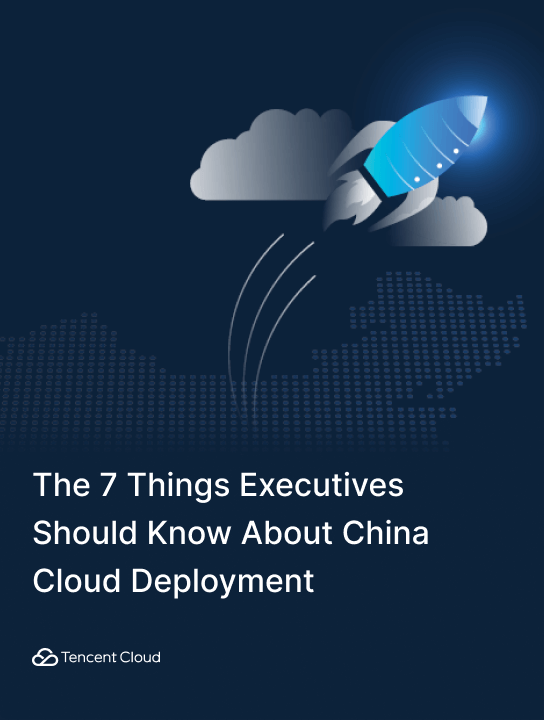 China is home to one of the world's largest economies, and continues to grow and mature at a staggering rate. It accounts for 15 percent of the total global economy, and is on pace to overtake the U.S. as the world's GDP leader by 2029.
Combined with the nation's growing middle class and ongoing widespread urbanization trends, China is fertile ground for foreign investment. Companies interested in tapping into new revenue streams and expanding their customer base are naturally drawn to the lucrative opportunities presented by Chinese markets.
Cloud platforms are a prerequisite for running an international business today, providing the scalability, redundancy and performance needed to oversee operations across the globe. Deploying cloud solutions in China is a very different process with unique considerations and challenges. Foreign business leaders must fully understand the seven factors listed out in this eBook before deploying into Chinese markets.
Tencent Cloud specializes in supporting foreign businesses that wish to maintain a centralized decisi on-making framework with their international teams. By providing a consultative approach to cloud deployment, Tencent Cloud empowers companies to reap the rewards of both international and local teams: the visibility and control of the former with the cultural acumen and market expertise of the latter.
A viable cloud solution provider should offer a vast industry footprint, with robust infrastructure to support expansion into new Chinese markets as well as the ability to scale up performance and resources whenever necessary. Tencent Cloud's expansive cloud architecture is able to support the most ambitious business goals and projects companies can devise.
Leveraging Tencent's extensive application environment presents unique opportunities to target large and established user bases through its extremely popular consumer-focused applications.
With Tencent Cloud, foreign business leaders have all the tools, resources and know-how needed to successfully expand into any Chinese market of their choosing.