This document walks you through the process of applying for a certificate and entering information for verification.
Applying for a Certificate
The following figure shows the entire process of purchasing a certificate:


Step 1: purchase a certificate
Log in to the SSL Certificate Service Console. On the Certificate Management page, click Purchase Certificate, after which the page shown in the following figure is displayed.

Note:

You can also purchase a certificate on the Tencent Cloud SSL certificate purchase page.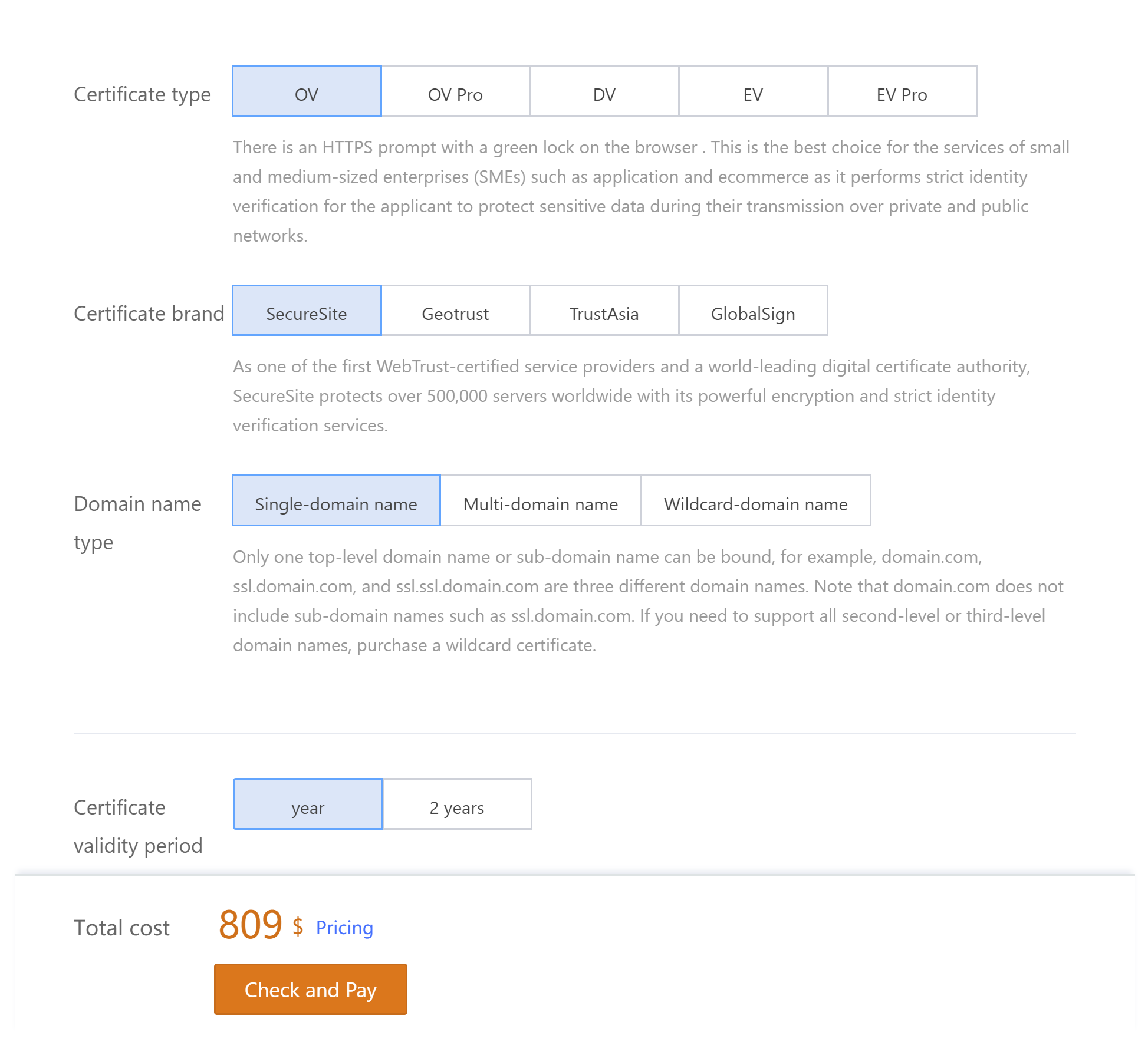 2. Select the certificate type, certificate brand, domain name type, and domain name validity period as needed. For detailed instructions, see Purchase Procedure.
Step 2: submit information for verification
Domain name ownership verification
For DV SSL certificates, 3 verification methods are supported: automatic DNS verification, manual DNS verification, and file verification.
Note:

If the domain name entered is added successfully to Tencent Cloud DNS, automatic DNS verification is supported.
Organization verification
For OV and EV SSL certificates, you need to submit the required materials, upload the confirmation letter, and wait for review. A reviewer will call you to verify the information and send an email asking you to confirm the domain name information.
Step 3: wait for the certificate to be issued
After your certificate order passes the review, the CA will issue your certificate.
OV and EV certificates: it takes 3-5 business days to issue an OV certificate and 5-7 business days to issue an EV certificate.
DV certificates: it takes between 10 minutes and 24 hours to issue a DV certificate.
Step 4: install the certificate
Log in to the SSL Certificate Service Console, and the Certificate Management page will be displayed.
Find the row of the certificate you want to install, click Download.
After downloading the certificate, decompress the certificate and install it on your server. Click here to see installation details.