Product Strengths
Last updated: 2020-02-24 11:33:44
PDF
Massive resource reserve
Domestic node distribution
Tencent Cloud content distribution network has 1100 + cache node in China, with a total reserve bandwidth of 100Tbps+. Cache node in the territory are all high-standard and high-security Client's and Data center of Tencent, enjoying ISP's high-quality network, with nodes covering all provinces, autonomous regions and municipalities directly under the Central Government. At the same time, by promoting the access of the three major ISP and the small ISP of the 50 + family, four major central nodes have been established, and the acceleration effect of small and medium-sized ISP has been greatly enhanced.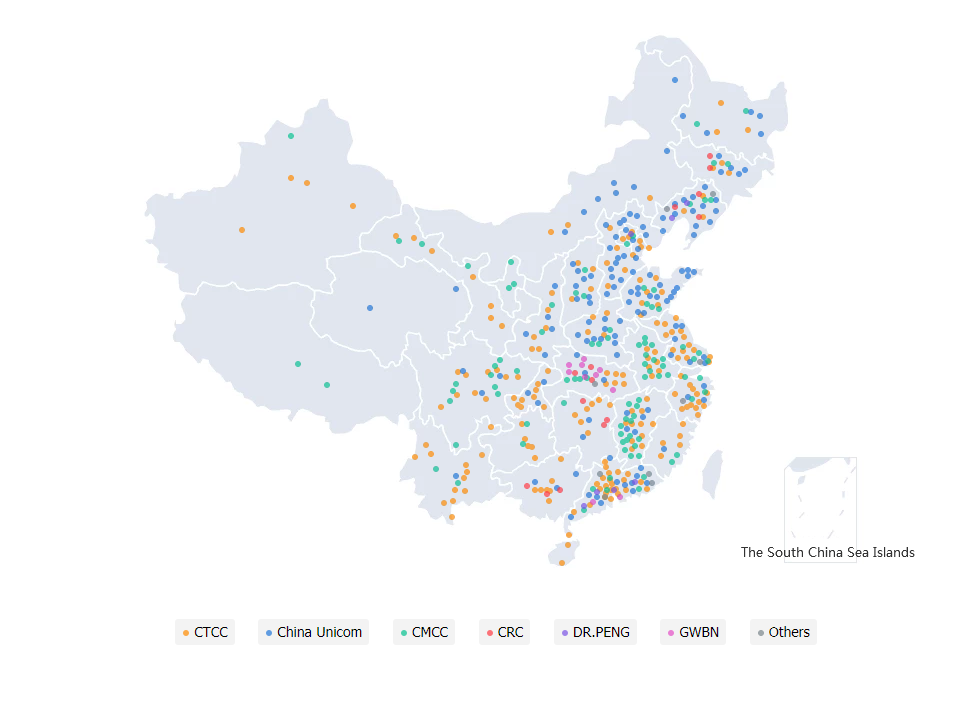 Overseas Nodes
Since 2017, Tencent Cloud's content distribution network has made great efforts to develop overseas acceleration. As of January 2020, there are 200 + cache node outside China, with a total reserve bandwidth of more than 20 Tbps, covering 50 + countries and regions, helping your business to go to sea with one click.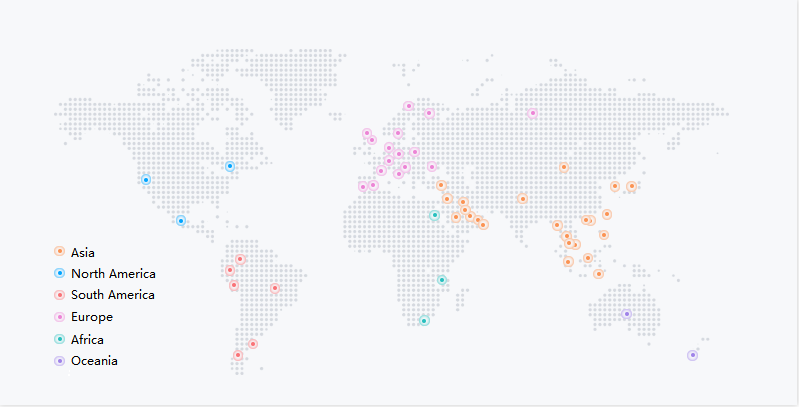 Region
National distribution
Asia
Hong Kong, China, Taiwan, Macao, China, Japan, South Korea, Vietnam, Singapore, Thailand
Philippines, Malaysia, Indonesia, India, Turkey, Saudi Arabia, United Arab Emirates, Myanmar
Cambodia, Iraq, Kuwait, Qatar, Oman, Israel, Mongolia
North America
United States, Canada, Mexico
South America
Brazil, Argentina, Colombia, Peru, Ecuador, Chile
Europe
United Kingdom, Russia, Germany, Italy, Poland, Sweden, Elland, Romania
Spain, Portugal, France, Netherlands, Belgium, Austria, Denmark, Finland
Africa
South Africa, Egypt, Tanzania
Oceania
Australia, New Zealand
Global intelligent scheduling
In the process of user Access's resources, affected by ISP's network, the region where the client is located, and the network bandwidth of real server IDC ISP, Access can not be guaranteed to get a high-quality response.
Tencent Cloud content distribution network through real-time monitoring of entire network Linkage, combined with Tencent's 's GSLB scheduling system and intelligent routing technology, dispatch user Access to the optimal edge cache node for service, to ensure that users can quickly and stably get the resources they need.
One-Click Access
Using Tencent Cloud content distribution network for service acceleration, there is no need to make any adjustments or changes to your own business content, and the access process is simple and fast.
After registering and completing the Tencent Cloud account Identity verification, you can click the Enable content distribution network service without paying in advance. At this time, you only need to add your business domain name in the content distribution network console and wait for about 5 minutes. Domain name-related configuration will be deliver to entire network cache node. The acceleration service has not yet taken effect in the whole process, which will not have any impact on your existing network business.
When the acceleration service is enabled, modify the corresponding CNAME resolution configuration at the domain name service provider. After the DNS takes effect, the acceleration service will take effect.
Rich Features
Tencent Cloud content distribution network provides a rich and convenient console, and you can make various configuration changes, data viewing, etc., as needed:
Domain Name Management
Domain names can be added or deleted, Activate and deactivate are supported.
Support switching acceleration regions. Custom acceleration range is within China, outside China, or global acceleration.
Custom domain name list display page is supported, and various configurations are displayed, filtered and queried.
Configuring the domain name
You can configure your own origin server (IP list, domain name) or Tencent Cloud and Cloud Object Storage as real server, and you can poll Origin-pull, Hot backup, real server, and weight Origin-pull.
Custom Access control strategies such as Referer Blacklist/Whitelist configuration, IP Blacklist/Whitelist configuration, timestamp Hotlink protection Prevent hotlinking configuration, IP Access frequency limit and other custom Access control strategies are supported.
Support custom node cache Expire time, custom status code cache Expire time and HTTP header cache configuration
Support multinational Origin-pull Linkage optimization, Range Origin-pull optimization, 301 Uniqq302 Origin-pull to follow the optimal configuration.
Support HTTPS acceleration, HTTP2.0 acceleration, and request to force Redirect.
Support bandwidth capping configuration, HTTP Response Header custom configuration, intelligent compression, SEO search engine optimization and other advanced configurations.
Purge CDN Cache
Support self-help entire network cache content refresh, support Directory refresh and URL refresh.
Real-time Monitoring
Real-time monitoring of granularity bandwidth of 1 minute, hit rate of Traffic and Traffic, number of requests and status codes generated by all Access requests are supported. Screening of projects, domain names, provinces, ISP and Protocol is supported to display service status in an all-round way.
Support 1-minute granularity Origin-pull bandwidth, Traffic, number of requests, failure rate, all status codes generated by Origin-pull request, real-time overhead, support project and domain name filtering, and assist users to observe the status of real server.
Support global user regional distribution report real-time view, support ISP distribution report real-time view.
Provide daily, weekly, monthly and other operating reports in a variety of time periods to help users understand business fluctuations.
Cloud Log Service
Support downloading all logs generated by Access's request and packing them on an hourly basis.
Rich API
All of the above supported functions provide external API. If your OPS personnel need to customize your business management, monitoring, data display and analysis, you can directly Go to use .