Feature Overview
Tencent Cloud CDN enables TLS 1.0/1.1/1.2 and disables TLS 1.3 by default. You can enable and disable TLS versions as needed.
Note:

Make sure the HTTPS certificate is properly configured.
TLS version configuration is now only available in the Chinese mainland regions. If the acceleration region of a domain name is "Global", then the configuration changes will take effect only in the Chinese mainland.
This feature may be unavailable in some platforms. We will complete server upgrade as soon as possible.
Configuration Guide
Viewing configuration
Log in to the CDN console, select Domain Management on the left sidebar, click Manage on the right of a domain name to enter its configuration page, and open the HTTPS Configuration tab to find the TLS Version Configuration section.
By default, TLS 1.0/1.1/1.2 are enabled and TLS 1.3 is disabled.

Modifying configuration
Open Modify Configuration to enable and disable TLS versions as needed.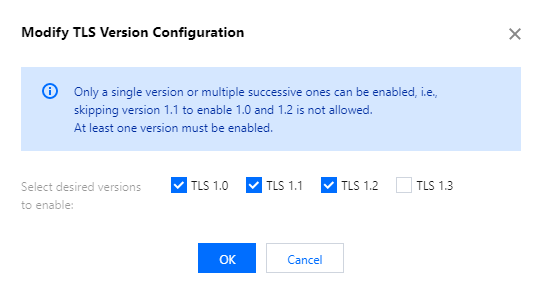 Configuration limitations
You can enable a single version or multiple consecutive ones. For example, you can enable version 1.0, 1.1 and 1.2, but not version 1.0 and 1.2.
At least one version must be enabled.