Operation Scenarios
Video upload from client refers to uploading local videos to the VOD platform by an end user of application. This document describes how to upload videos using a client.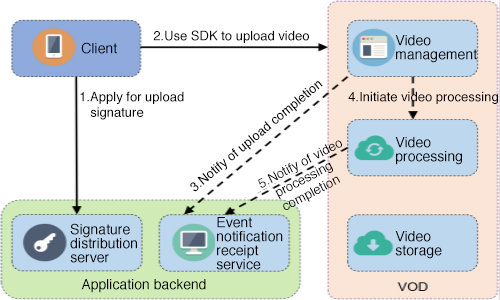 Prerequisites
1. Activate the service
Activate VOD.
2. Get TencentCloud API key
Get the security credentials (i.e., SecretId and SecretKey) required to call the server API in the following steps:
Log in to the console and select Cloud Products > Cloud Access Management > API Key Management to enter the "API Key Management" page.
Get the TencentCloud API key. If you have not created a key, click Create Key to create a pair of SecretId and SecretKey.
Directions
1. Apply for upload signature
The client needs to apply to the signature distribution server of the application for an upload signature. For detailed directions, please see Signature for Upload from Client. Below are samples of generating signatures in different programming languages:
Note:

Upload from client is to directly upload video files from a client to the VOD platform, without the need to relay files through the application server. Therefore, VOD has to authenticate the client that initiates the request.
The application shall not disclose SecretKey, which has ultimate permissions, to the client in order to avoid serious security breaches. Therefore, before initiating a request, the client needs to apply for an upload signature.
2. Use the SDK to upload video
VOD provides SDKs for multiple platforms to help upload videos from client with ease. For more information, please see:
Advanced features
FAQs
3. Event notification
After a video upload is completed, VOD will initiate an event notification - video upload completion to the application backend, through which the application backend can become aware of the video upload event. To receive event notifications, you need to go to Console - Callbacks to enable event notification. Event notification - video upload completion mainly contains the following information:
For more information, please see: