Logging into Windows Instance via Remote Desktop
Last updated: 2020-02-11 10:11:34
PDF
Scenario
This document describes how to log in to a Windows instance through remote desktop on a local computer.
Applicable OS
Windows
Prerequisites
You must already have the admin account/password for logging into Windows instance remotely.
A public IP has been purchased for your CVM instance, and port 3389 is open (if the CVM is purchased with "Quick Configuration", this port is open by default.)
Steps
The following steps take the Windows 7 operating system as an example.
On the local Windows computer, click , and enter mstsc in Search programs and files and press Enter to open the remote desktop connection dialog box, as shown below:

Enter the Windows server's public IP after Computer and click Connect.
Enter the instance's admin account/password in the Windows Security pop-up window, as shown below:

If the Do you trust this remote connection? dialog box pops up, you can check Don't ask me again for connections to this computer and click Connect.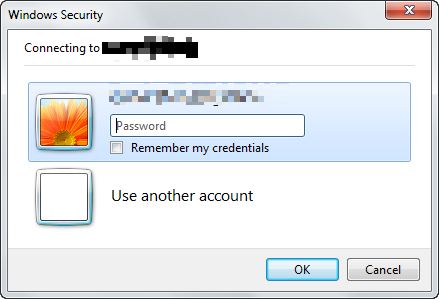 4. Click OK to log in to the Windows CVM instance.