Introduction
You can upload objects to a bucket on the File List page in the COS Console. For more information on objects, see Object Overview.
Prerequisites
Before uploading an object, please make sure that you have created a bucket. If no bucket has been created, see Creating a Bucket.
Directions
1. Entering the file list
Log in to the COS Console. Click Bucket List, select the bucket to which you want to upload the objects, and you will be taken to the bucket's File List page. Click Upload Files and you will see the Upload Files window as shown below.


2. Selecting the object(s) to be uploaded
On the Upload Files page, click Select Files or Select Folders to upload a single or multiple local files/folders. After selecting the objects to be uploaded, click Upload, or click Next to set the object attributes before the upload (see Step 3).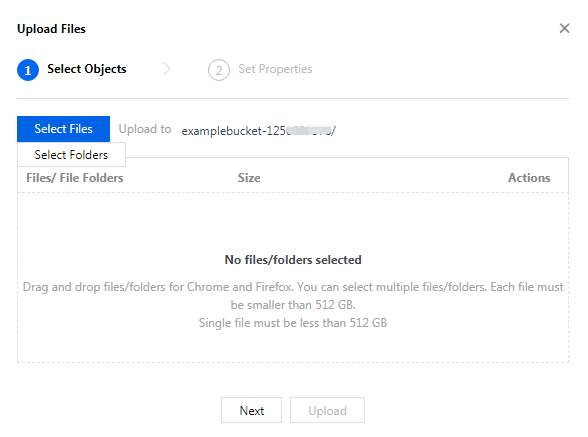 3. Setting object attributes (optional)
Set the storage class, access permissions, server-side encryption and metadata (optional) for the files to be uploaded, and then click Upload. The configuration items are described as follows:
Some browsers do not support uploading multiple files. It is recommended to use mainstream browsers such as IE10 or above, Firefox, or Chrome.
4. Verifying the completion of the upload
After clicking Upload, you can check the upload progress in Task Completed in the top right of the page. After the upload is complete, you can see the uploaded object in the File List page of the bucket.


The task progress in the figure indicates the number of tasks created by the current operation. For example, if you upload 10 files in a single operation and all are successfully uploaded, the task progress will display "1 succeeded, 0 failed, and 0 suspended".